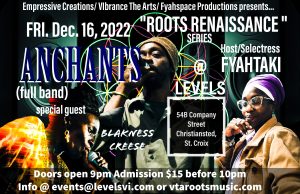 ROOTS RENAISSANCE SERIES 2022
WHAT?: Roots Renaissance Series is an effort to bring Roots back into its rightful place – Roots Music; Roots Livity – pRINCIPALITIES OF ANCIENT TIMES. "RENAISSANCE" IS A FRENCH WORD MEANING rEBIRTH. BE PART OF THE REVIVAL OF THIS LIVING ART…BE PART OF THE CHANGE WE ALL SEEK. EACH ROOTS RENAISSANCE EVENT WILL FEATURE AN ARTIST ON ST. CROIX. THIS IS A COLLABORATIVE EFFORT PUT FORTH BY VARIOUS FACETS OF THE COMMUNITY TO ENSURE THAT THE ART BE FAIRLY REPRESENTED, AND ALSO ENSURE A ROOTS VIBE EVERYTIME.
WHO?: ANCHANTS (FULL bAND), WITH BLAKNESS CREESE AS SPECIAL GUEST OF THE EVENING, AND EMPRESS DJ FYAH TAKI AS HOSTESS AND SELECTRESS FOR THE OCCASSION.
WHERE?: Series WILL BEGIN 1st event ON ST. CROIX AT LEVELS (54B COMPANY STREET, CHRISTIANSTED)
WHEN?: event is FRIDAY, DECEMBER 16, 2022
IF YOU ARE INTERESTED IN JOINING OUR TEAM OF VOLUNTEERS OR GROUND TEAM, PLEASE LEAVE A COMMENT ON THIS POST OR EMAIL US AT VIBRANCETHEARTS@GMAIL.COM.
THANK YOU FOR YOUR SUPPORT.